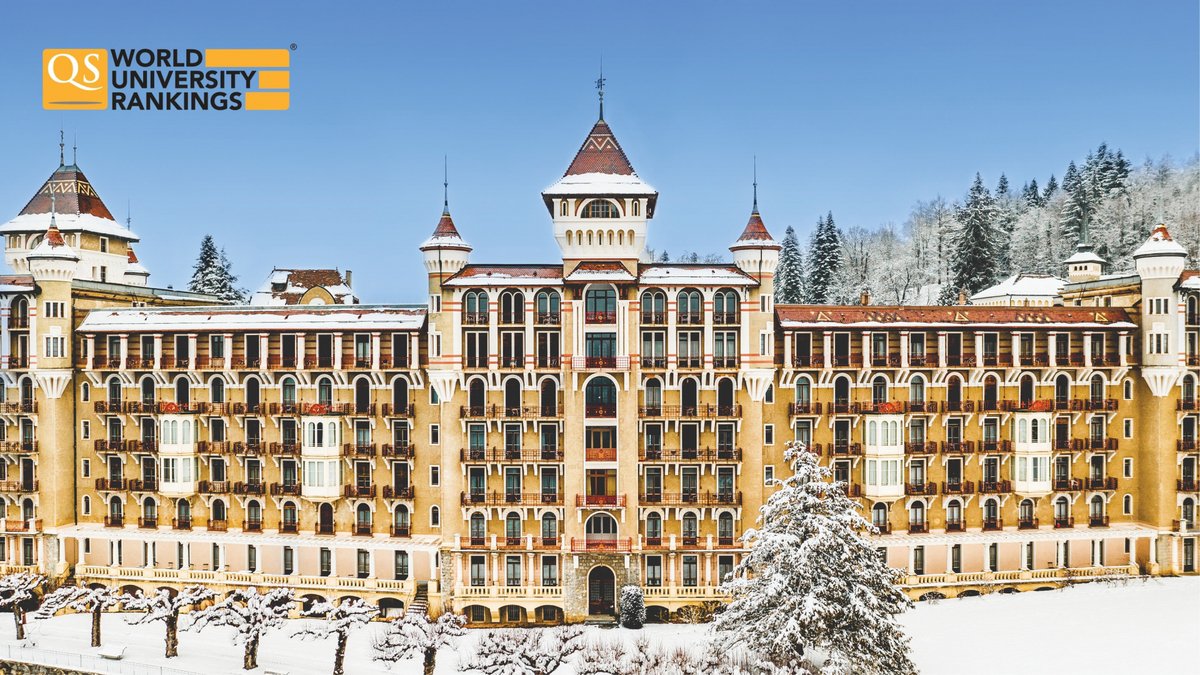 In den letzten QS World University Rankings, die am Mittwoch, den 3. März veröffentlicht wurden, dominieren die Schulen der Swiss Education Group 5 der Top 10 in der Kategorie Hotellerie und Freizeitmanagement. Diese Leistung spiegelt nicht nur die hervorragende Qualität der an den Schulen angebotenen akademischen Programme wider, sondern auch den internationalen Ruf bei Top-Arbeitgebern und -Partnern.
Die Swiss Hotel Management School (SHMS) sicherte sich den vierten Platz im globalen Ranking und ist damit das fünfte Jahr in Folge eine der Top 10 Institutionen der Welt für Hotellerie und Freizeitmanagement. Einen beeindruckenden Schritt in die Top 10 machten alle anderen Schulen, Hotel Institute Montreux (6.), César Ritz Colleges Switzerland (7.), Culinary Arts Academy Switzerland (8.) und die neu mit SHMS fusionierte IHTTI School of Hotel Management (10.).
Diese herausragende Leistung spiegelt die hohe Professionalität unserer Fakultät und unserer Mitarbeiter sowie die Qualität der Bildungsprogramme an jeder Schule wider. Im Laufe der Jahre haben unsere Schulen starke akademische und industrielle Partnerschaften entwickelt, die hochrelevante Lehrpläne liefern, die Beschäftigungsfähigkeit und Karriereentwicklung von Studenten unterstützen und ein globales Alumni-Netzwerk aufbauen.
Wir sind sehr stolz auf die Leistungen unserer Schulen und dankbar für die Unterstützung unserer akademischen und industriellen Partner weltweit. Als grösster privater Gastronomie-, Business- und Kulinarikpädagoge in der Schweiz setzen wir unser unerschütterliches Engagement für erstklassige Bildung und Lebensgestaltung fort.

Yong Shen, Chief Executive Officer der Swiss Education Group.
Culinary Arts Academy Switzerland ist das einzige kulinarische Institut, das in der Weltrangliste anerkannt ist – ein wahres Zeugnis seines Weltklasse-Standards und Schweizer Ansatzes, kulinarische Künste zu unterrichten. Mit einem starken Fokus auf den Aufbau von praktischen und geschäftlichen Fähigkeiten in ihren Schülern sorgt die Schule für gut abgerundete Absolventen, die große Chefköche und Foodpreneurs werden können.
Die QS World University Rankings sollen Millionen von Studierenden, Eltern, Akademikern und politischen Entscheidungsträgern unabhängige Qualitätssicherung bieten, die sicherstellen wollen, dass ihre Bildungs-, Karriere- und strategischen Entscheidungen datengetrieben sind.
Wir sehen, dass das Hotel Institute Montreux, die César Ritz Colleges Switzerland, die Culinary Arts Academy Switzerland und die IHTTI School of Hotel Management ihre Position in diesem Jahr verbessern, basierend auf starkem Respekt sowohl bei Akademikern als auch bei Arbeitgebern: ein Beweis für eine hohe Qualität des Bildungsangebots, aber auch für starke Beschäftigungsergebnisse nach Abschluss des Studiums.

Jack Moran, QS-Sprecher.
Die diesjährigen Rankings belegen, dass die Schweizer Top-Bewirtungsprogramme ihren Studierenden eine wirklich erstklassige Ausbildung bieten. Mit 220 rangierten Programmen von 30 Institutionen in der diesjährigen Fachrangliste ist die Schweiz das 16. am meisten vertretene Land der Welt. In Bezug auf die Top-100 Programme ist die Schweiz die zehntstärkste globale Hochschulnation, basierend auf 121 Programmen an 27 Institutionen.
Erfahren Sie hier mehr über die diesjährigen Rankings.