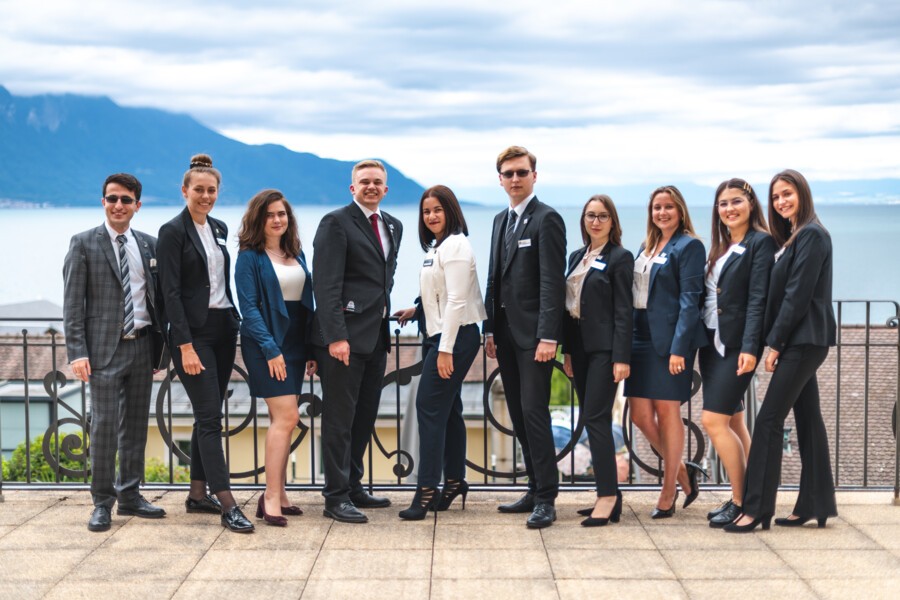 Die Schweiz ist für viele von uns ein Traumziel. Das schöne Land, das von den Alpen umgeben ist, wurde als einer der berühmtesten Touristenorte der Welt bezeichnet. Best Hospitality And Hotel Management Schools In The World For 2021.

Aber abgesehen von all diesen kulturellen vielfältigen Aspekte, das Land zeichnet sich auch im akademischen Bereich und hat damit einen besonderen Platz unter allen Studenten auf der ganzen Welt geschnitzt. Unbekannt für viele von uns ist die Schweiz die Heimat eines der ersten Hotelmanagement-Institute der Welt und hat seitdem weiterhin Aspiranten anzuziehen, die sich danach sehnen, in diesem Bereich voranzukommen. Hier in diesem Blog werden wir sehen, welche alle Institute rund um den atemberaubenden Ort es auf die Liste als Top-Gastfreundschaftsinstitute geschafft haben.
Hotel Institut Montreux: Das Hotel Institute Montreux ist eines der verschiedenen Institute, die sich im schönen Land der Schweiz befinden. In einem der schönsten Teile des Landes gelegen, verbindet das College sowohl Schweizer Gastfreundschaft als auch amerikanisches Geschäftswissen perfekt. Abgesehen davon sorgen die wichtigen Partnerschaften mit Branchenführern dafür, dass die Kurse für die neuesten Trends und Erkenntnisse des heutigen Marktes relevant bleiben. Mit so vielen Jahren der Vermittlung von exzellenter Ausbildung im Bereich des Gastgewerbes, haben die Kurse, die vom Institut angeboten werden, internationale Akkreditierungen, die die beste Karrierechancen für die Studenten bieten.
Swiss Hotel Management School: Die Swiss Hotel Management School ist eine weitere vielversprechende Option, um Hotelmanagement in der Schweiz zu studieren. Das Institut ist im ehemaligen Swiss Palace Hotel untergebracht und legt den Schwerpunkt auf "Learning by Doing". Einer der auffälligen Aspekte des Lehrplans an der Schule ist, dass sie den Studenten die Möglichkeit bietet, Hospitality Management in realen betrieblichen Einrichtungen zu erleben und zu lernen. Von verschiedenen Akkreditierungen wie Bachelor of Arts, Postgraduate Diploma und Master-Programme, haben die Kandidaten reichlich Möglichkeiten, sowohl ihr Wissen als auch ihre Karriereaussichten während des Studiums im Institut zu erweitern.
International Management Institut: Das International Management Institute ist eines der privaten und erfolgreichen Management-Institute mit Sitz in der Schweiz. Das College verfügt über hochqualifizierte Kernfakultäten, unterstützt von Gastdozenten, die dazu beitragen, dass das Lernen umso mehr Spaß macht. Mit einer Vielzahl von akkreditierten Kursen im Lehrplan, mischt das College auch Lernmöglichkeiten mit praktischer Ausbildung, um Studenten zu helfen, Einblicke in die Industrie richtig zu bekommen. Ausserdem, die große Vielfalt der Jobaussichten in der Schweiz macht das Institut, eine Top-Wahl für Studenten auf der ganzen Welt.
HTMi Hotel und Tourismus Management Institut in der Schweiz: Für all jene Kandidaten, die sich auf helle Karrieremöglichkeiten im Bereich des Hospitality Managements freuen, ist dieses Institut eine der besten Entscheidungen. Das Hotel- und Tourismusmanagement-Institut Schweiz bereitet die Studierenden auf globale Perspektiven im Gastgewerbe vor. Mit einer qualitativ hochwertigen Ausbildung und exzellenten Einrichtungen verbindet das Institut die Bedürfnisse der Zeit mit den aktuellen Erkenntnissen in der Hospitality-Branche und gibt den Studenten somit einen großen Spielraum, um ihr volles Potenzial zu nutzen. Abgesehen davon haben Studenten, die den Kurs erfolgreich abschließen, eine Chance, in führenden Hotels weltweit rekrutiert zu werden. All dies und vieles mehr hat das Institut zu einem Pionier in der heutigen Gastgewerbebranche gemacht.
Business und Hotel Management Schule: Als eines der führenden Institute in der Schweiz für das Studium von Hospitality Management ist die Business and Hotel Management School in jeder Hinsicht eine gute Wahl. Der schöne Campus befindet sich in Luzern und ist im Herzen der Stadt verteilt und ist zu Fuß erreichbar. Eines der besten Dinge über das Institut ist, dass es keine Kompromisse bei der pädagogischen Qualität macht und das Industrietraining ist ein großer Teil des Lehrplans. Darüber hinaus hat das College auch Verbindungen zu verschiedenen Vermittlungsagenturen und bietet somit den Studenten die Möglichkeit, nicht nur in der Schweiz, sondern auch in Asien, Europa und Nordamerika zu arbeiten.
Glion Institute of Higher Education: Das Glion Institute of Higher Education wurde 1962 gegründet und hat sich seitdem zu einem der besten Orte für das Studium von Hospitality Management entwickelt. Das College kombiniert akademische Exzellenz mit praktischen Fähigkeiten und Praktika, was es den Studenten leicht macht, die Karriereaussichten zu verbessern. Mit einem Fokus auf die Entwicklung von Fähigkeiten, die eine Voraussetzung in der heutigen wettbewerbsorientierten Welt sind, hat Glion auch lohnende Praktika für die Studenten, damit sie ihre beruflichen Ambitionen leicht erreichen können.
Artikel ursprünglich gefunden auf ceoworld.biz