Mitten im sprudelnden Luzern, am Ufer des Genfersees oder am Fusse des Matterhorns. Die César Ritz Colleges Switzerland bietet Ihnen eine moderne und wettbewerbsfähige Ausbildung in den Bereichen Hospitality und Business in einen der schönsten Orte der Welt.
César Ritz Colleges Switzerland bietet zwei verschiedene Standorte in der Schweiz an, zwischen denen Sie als Student wählen können. Luzern passt zu denen, die das Stadtleben in einer der schönsten Städte der Welt suchen. Das kleine Dorf Le Bouveret passt zu denen, die in der Nähe der Natur und am wunderschönen Genfersee wohnen möchten. Ihr letztes Jahr sowie auch der Masterprogramm, finden auf unserem Campus in Brig statt. An beiden Standorten in Luzern und Le Bouveret teilen Sie sich die Räumlichkeiten mit unseren Freunden an der Culinary Arts Academy Switzerland. In Luzern begegnen Sie unseren schokoladen-liebenden Konditorstudenten und in Le Boveret unseren zukünftigen Sterneköchen. Eine Win-Win-Situation sozusagen, was auch immer Sie wählen.
An der César Ritz Colleges Switzerland können Sie an einem der oben genannten Standorte einen Bachelor-Abschluss (Bachelor of Arts in Hospitality Business Management) erwerben. Wenn Sie Ihre Fähigkeiten nach dem Studium verbessern und weiterentwickeln möchten, können Sie sich für das Masterstudium Master of International Business in Entrepreneurship bewerben, das sich auf unserem Campus in Brig befindet, um eine einzigartige Position in der Branche zu erreichen. Haben wir schon erwähnt, dass Brig am Fusse des Matterhorns und in Skientfernung zu den weltberühmten Skigebieten Zermatt und Saas-Fee liegt?
Unser Bachelor-Abschluss wird in Zusammenarbeit mit der Washington State University und dem Master-Programm mit der University of Derby, UK, erzielt. Dies bedeutet, dass Sie doppelte Abschlüsse erhalten, einen von uns und einen von der jeweiligen Universität.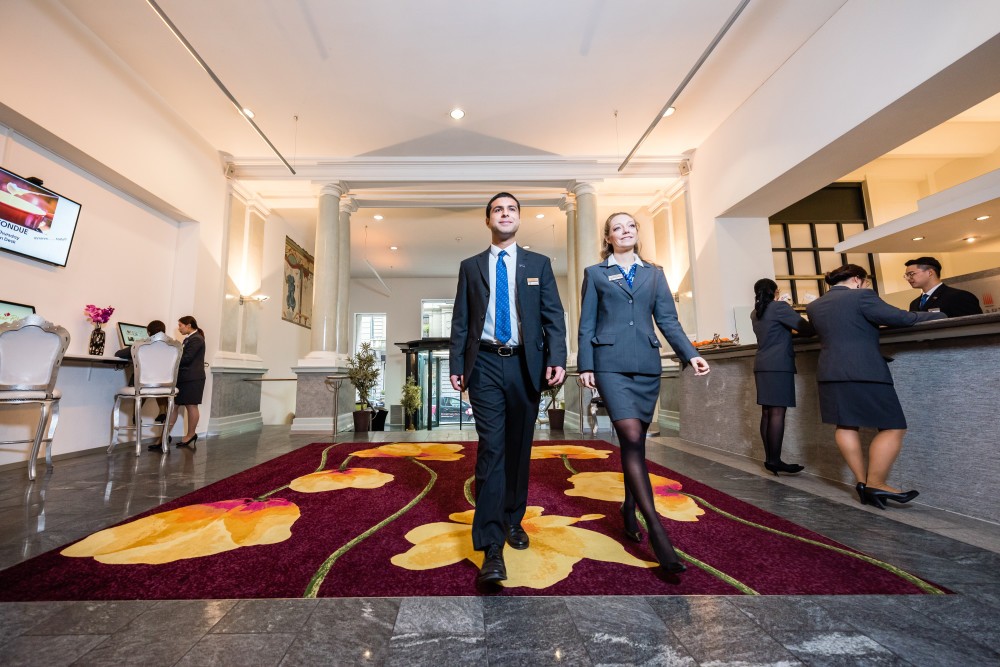 Eine einzigartige Kombination
Was macht unsere Schulen so besonders? Und warum solltest Du hier studieren? Was uns so einzigartig macht, ist unsere Mischung aus theoretischem und praktischem Unterricht. Wir sind der festen Überzeugung, dass das beste Wissen aus der praktischen Ausbildung an realen Arbeitsplätzen stammt. 22 Wochen im Jahr erhalten Sie Unterricht an der Schule, wo wir auch zwischen theoretischen und praktischen Übungen, Kursen und Aufgaben wechseln. Zwischen diesen Wochen absolvieren Sie auch bezahlte Praktika zwischen vier und sechs Monaten, wo immer Sie wollen – und egal in welchem Jahr.
Bereits als Herr César Ritz vor 40 Jahren die Schule gründete, war unsere Philosophie von Unternehmertum und Innovation geprägt. Wir legen grossen Wert auf die persönliche Entwicklung, bei der wir das unternehmerische Denken und Unternehmertum auf der Grundlage von Multikulturalismus und Gemeinschaft fördern. Alles im Geiste von César Ritz und seinem Sinn für Klasse und exzellenten Service. Nach Ihrem Abschluss haben Sie nicht nur eine begehrte Position in der Branche, sondern auch einen vollständigen und entwickelten Geschäftsplan, der umgesetzt werden kann!
Nach der Schule
Ihr Weg nach dem Abschluss ist wirklich nur durch Ihre eigene Kreativität und Ihren Verstand begrenzt, da die meisten Branchen von Gastfreundschaft geprägt sind und Unternehmen und Unternehmertum Ihre Möglichkeiten noch weiter erweitern. Wenn Sie bereit sind, Ihr detailliertes Geschäft in die Realität umzusetzen, gibt es wirklich keine Grenzen dafür.
Fragen Sie sich immer noch, ob César Ritz Colleges Switzerland und Hospitality die richtige Wahl für Sie sind? Dann empfehlen wir Ihnen, einigen unserer ehemaligen Studenten zuzuhören um zu erfahren, wie Ihre Karriere nach Abschluss Ihres Studiums bei uns aussieht.
Erfahren Sie mehr über Patric Farah und wie ein Meister der Gastfreundschaft sein Leben verändert hat.
Oder über Munkhjargal Mungunshagais herausragende Karriere als Verkäufer. Alle mit einem Abschluss von César Ritz Colleges Switzerland.
Erfahren Sie über Mason Tasiyana, wie es ist, mit Menschen aus allen Ecken und Kulturen der Welt zu lernen.
Glaubst du uns immer noch nicht? Im Jahr 2019 belegte César Ritz Colleges Switzerland den zweiten Platz im THE-ICE Global Premier Ranking, in dem Studenten ihre Ausbildung weltweit bewerten.
Wenn Sie noch mehr über das Leben in der Schweiz erfahren möchten oder wissen möchten, wie es ist, an den César Ritz Colleges Switzerland zu studieren, wenden Sie sich an einen unserer Studienberater.