Wir freuen uns, bekannt geben zu können, dass alle vier unserer Schulen laut QS-Ranking 2023 weiterhin zu den acht besten Hotelfachschulen der Welt gehören werden.
Ich möchte mich bei der akademischen Gemeinschaft und den Arbeitgebern für dieses Vertrauensvotum bedanken. Die internationale Anerkennung und die Tatsache, dass alle unsere Schulen zu den acht besten der Welt gehören, spornt uns an, alles, was wir tun, weiter zu verbessern. Es ist eine sehr spannende Zeit für die Hotelfachschule", sagte Ronan Fitzgerald, Vizepräsident der Swiss Education Group.
Die SHMS – Swiss Hotel Management School wird weiterhin als drittbeste Hotelfachschule der Welt und als zweitbeste in der Schweiz eingestuft. Patrick Taffin, stellvertretender Schulleiter der SHMS Leysin, sagte: "Unser Team arbeitet hart daran, unsere Schüler zu inspirieren, die besten Führungskräfte in der Hotelbranche zu werden, und unsere Schüler können sehr stolz darauf sein, so talentierte junge Fachleute zu sein. Dieses Ergebnis spiegelt direkt wider, was die Branche von der SHMS hält."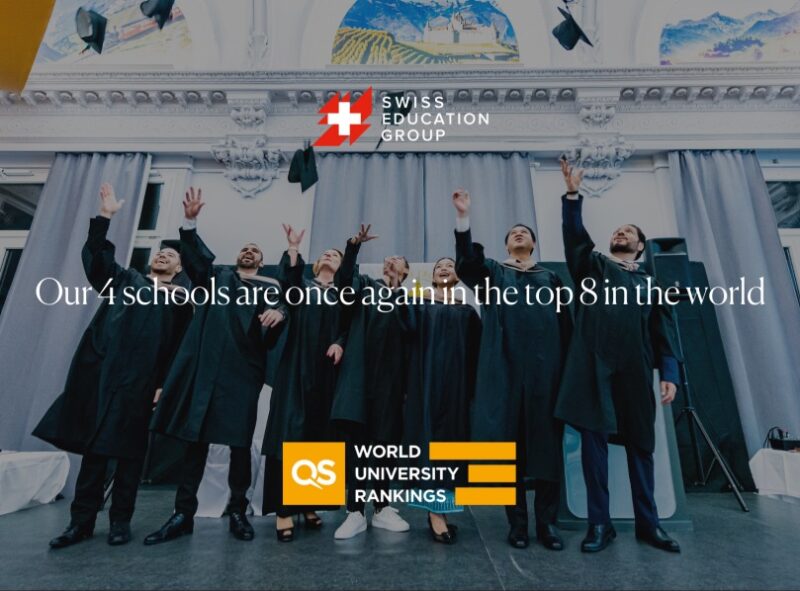 Wir verstehen, was wir tun, wie wir es tun und warum wir es tun.
Obwohl die César Ritz Colleges Switzerland, die Culinary Arts Academy Switzerland und das HIM – Hotel Institute Montreux erst vor kurzem ihren Platz unter den zehn besten Schulen der Welt erobert haben, haben die beeindruckenden Ergebnisse in den Jahren 2022 und 2023 den Ruf aller unserer Schulen fest etabliert. Alle vier Schulen haben ihre Durchschnittswerte für den akademischen Ruf und den Ruf als Arbeitgeber deutlich verbessert.
2023 QS Rankings in Hospitality and Leisure Management (QS-Rankings für Management im Gastgewerbe und Tourismus)
SHMS – Swiss Hotel Management School : 3. Platz
César Ritz Colleges Schweiz: 6. Platz.
HIM – Hotel Institute Montreux: 7. Platz
Culinary Arts Academy Switzerland: 8. Platz, immer noch die einzige kulinarische Schule in der Rangliste.
Warum unsere Schulen zu den besten Gastgewerbeschulen der Welt gehören
1. Unsere Schüler werden von ihren Arbeitgebern sehr geschätzt
Durch mehr als 100 Partnerschaften mit der Industrie und eine ständig wachsende Liste hochqualifizierter ehemaliger Studenten, die zurückkehren, um ihre Herausforderungen und Erfolge mit den aktuellen Studenten zu teilen, ist der Lehrplan von der Industrie geprägt und unterstützt die Beschäftigungsfähigkeit und die berufliche Entwicklung unserer Studenten.
Unsere enge Zusammenarbeit mit Partnern aus der Industrie verleiht dem Unterricht eine reale Note – reale Probleme, reale Herausforderungen, reale Einblicke in die Arbeitswelt – all dies ermöglicht es unseren Studenten, ihren Abschluss mit einem genauen Verständnis der Herausforderungen zu machen, mit denen sie in der Arbeitswelt konfrontiert werden, erklärt Ulrika Bjorklund, Direktorin des Hotel Institute Montreux.
Unsere Aufmerksamkeit für die realen Details in unserem Ausbildungsprogramm zahlt sich für unsere Studenten in ihrem Berufsleben aus.
Die Branche liebt uns", fügt Dr. Szambowski hinzu. "Unsere Absolventen sind bereit, die Ärmel hochzukrempeln und sich an die Arbeit zu machen. Wir hören immer wieder von Unternehmen, dass wir ihre bevorzugte Schule für die Rekrutierung neuer Talente sind. Unsere Studenten steigen aufgrund ihrer Einstellung, ihres Wissens und ihrer Fähigkeiten sehr schnell auf.
Wir wissen aus dem Erfolg unserer Studenten nach dem Abschluss, dass wir die beliebteste Schule der Arbeitgeber sind.
2. Wir haben einen soliden, bewährten akademischen Ruf.
Unsere starken akademischen Partnerschaften mit führenden Hotelfachschulen in den USA und im Vereinigten Königreich verstärken und erweitern die Qualität unseres Bildungsangebots.
Tanja Florenthal, Rektorin der César Ritz Colleges Schweiz und der Culinary Arts Academy Schweiz, erklärt.
Je besser die Partner sind, desto höher ist die akademische Anerkennung, was zu einem Austausch von Lehrern und Schülern, zur Teilnahme an Konferenzen und zur Veröffentlichung in Forschungszeitschriften führt.
Unsere Schulen arbeiten mit Top-Institutionen wie der Washington State University, einer der führenden Forschungsuniversitäten der USA (in der Carnegie Classification of Institutions of Higher Education), der University of Derby, einer der 30 besten Universitäten des Vereinigten Königreichs, und der Northwood University zusammen, deren Hospitality-Management-Programm eines der wenigen ist, das vom Accreditation Council for Business Schools and Programs (ACBSP) akkreditiert wurde.
3. Wir sind innovationsfreudig
Alle unsere Schulen streben nach einer bewussten Integration von Spitzenforschung und konkurrenzlosem Erfahrungslernen.
Wie Schulleiterin Tanja Florenthal erklärt,
Diese Rankings sind eine Aussage über die Anstrengungen, die wir in unseren Unterricht stecken.
Jede Schule ist bestrebt, den Horizont im Auge zu behalten, um zu sehen, was als nächstes kommt.
Wir fördern die Innovation auf akademischer Ebene und sorgen dafür, dass die Innovationsfähigkeit vollständig in den Lehrplan integriert wir", so Florenthal weiter.
Dekan Bjorklund fügt hinzu: "Es werden neue Positionen geschaffen, die es vorher nicht gab, die Technologie entwickelt sich weiter, Nachhaltigkeit wird immer wichtiger – wir halten uns über die Veränderungen in der Branche auf dem Laufenden und bereiten unsere Studenten entsprechend vor".
An der Schweizer Hotelfachschule wurde vor einigen Jahren ein bewusster Ansatz für das Lehren, Lernen und Beurteilen eingeführt, was dazu führte, dass die Schule als Apple Distinguished School für ihr kontinuierliches Engagement für innovative Ausbildung und Lernerfahrung anerkannt wurde.
4. Wir kultivieren eine solide Gemeinschaft von fürsorglichen Menschen
Dass wir diese Art von akademischer Anerkennung drei Jahre in Folge erhalten haben, ist eine Anerkennung für die kollektiven Anstrengungen, die das Engagement und die kontinuierliche Unterstützung aller Beteiligten auf allen Ebenen innerhalb der Institutionen widerspiegeln. Die Kultur und die Werte werden auf allen Ebenen etabliert und vorgelebt, von der obersten Führungsebene abwärts.
An der HIM "bedeutet die Tatsache, dass wir eine kleine 'Boutique'-Schule sind, dass jeder Student Lehrer und Gastdozenten treffen, Fragen stellen und ein solides Netzwerk von Gleichaltrigen aufbauen kann. Die Atmosphäre ist von einem echten Familiensinn geprägt", sagt Schulleiterin Ulrika Bjorklund.
Über die QS-Rankings

Die QS World University Rankings sollen Millionen von Studierenden, Eltern, Akademikern und politischen Entscheidungsträgern, die ihre Bildungs-, Karriere- und Strategieentscheidungen auf der Grundlage von Daten treffen wollen, eine unabhängige Qualitätssicherung bieten. Die vollständige Rangliste 2023 finden Sie auf der Website der QS Rankings.